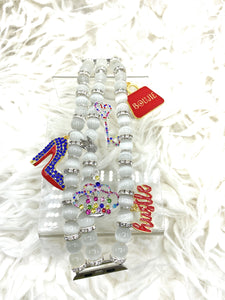 Hustle White Beads Apple Watch Charm Band
We always want you to shine and stand out.
With this Apple Charm Watch Bands that will definitely great to wear wherever you go.
This beautiful colored beads band with charms makes such a gorgeous piece for your Apple Watch.
This is customized and unique.
Fits 42-44mm.
Perfect gift idea for your wife, mother, sisters and girl friends.
***This listing is only for the watch band not the actual Apple Watch.